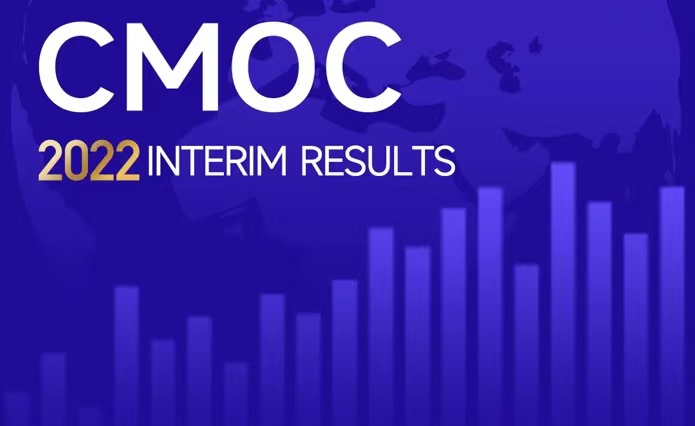 Abstract:
Record financial performance. In 2022 H1, CMOC reported a revenue of RMB91.77 billion, up 8% YoY; record net profit attributable to parent of RMB4.15 billion, up 72% YoY; EBITDA of RMB11.28 billion, up 59% YoY; and EPS of RMB0.193, up 72% YoY
Substantial output growth of key products enabled by stable production and operations. 125,387 tons of copper and 10,465 tons of cobalt were produced at operations in the DRC, 7,774 tons of molybdenum and 4,187 tons of tungsten at operations in CMOC China, 4,627 tons of niobium and 564,600 tons of phosphate at operations in Brazil, and 11,263 tons of copper and 8,381 ounces of gold at NPM, Australia (attributable production based on 80% equity). Among the Company's key products, copper production (TFM+NPM80%) increased by 24.4% YoY, cobalt production increased by 49.3% YoY, and niobium production increased by 17.2% YoY
Stronger synergy created as mining and trading businesses further consolidate. IXM, the trading arm of the Company, offtakes all products of the Company excluding molybdenum, tungsten, and phosphate. IXM maintained sound business performance, registering a metal trading volume (physical trading) of 3.054 million tons in 2022 H1, contributing USD98 million in net profit attributable to parent, up 50% YoY.
Good progress of key projects lays a solid foundation for future development. TFM mixed ore project and KFM development are progressing smoothly as the milestone plan and will start production in 2023, which will bring TFM an additional annual production of 200,000 tons of copper and 17,000 tons of cobalt and KFM an annual production of 90,000 tons of copper and 30,000 tons of cobalt. Huayue nickel-cobalt project in Indonesia became a new profit driver as it reached full production and produced at a rate higher than designed.
Industry-leading ESG performance. In 2022 H1, the Company achieved "zero work injury" and "zero pollution". The Company formulated two visions and four performance targets for climate change and biodiversity. TFM set the goal of applying for the Approved Copper Brand by 2023, aiming to align with the leading international ESG standards of the copper industry. The Company maintained its A MSCI ESG rating, among the top of the industry, and awarded 2021 China Outstanding Responsible Enterprise by Southern Weekly.
Remarks by Sun Ruiwen, CEO of CMOC
In 2022 H1, the Company achieved a record net profit attributable to parent of RMB4.15 billion, including Q2 contribution of RMB2.36 billion, supported by the rise in both commodity prices and production of key varieties. The Company's MSCI ESG rating maintained an industry-leading A grade. SAP Phase I was launched to build a foundation for global digital management pillared by SAP, further enhancing the Company's capability to achieve sustainable development.
As a global response to climate change, the world is working together towards carbon peaking and carbon neutrality which will bring lasting demand for new energy metals such as copper, cobalt, lithium, and nickel, bolstering the strength of long-term demand and offering new growth opportunities to the Company.
CMOC has formulated a three-step development path of "laying a foundation - ramp up production - achieve stellar growth", and we are now at the critical stage of moving from the first step to the second step. The TFM mixed ore project and KFM development are progressing well on schedule, and we are confident that production will start in 2023 as planned. By then, our copper and cobalt production will be more than doubled to enhance our profitability and consolidate our leading position in the new energy metals sector.