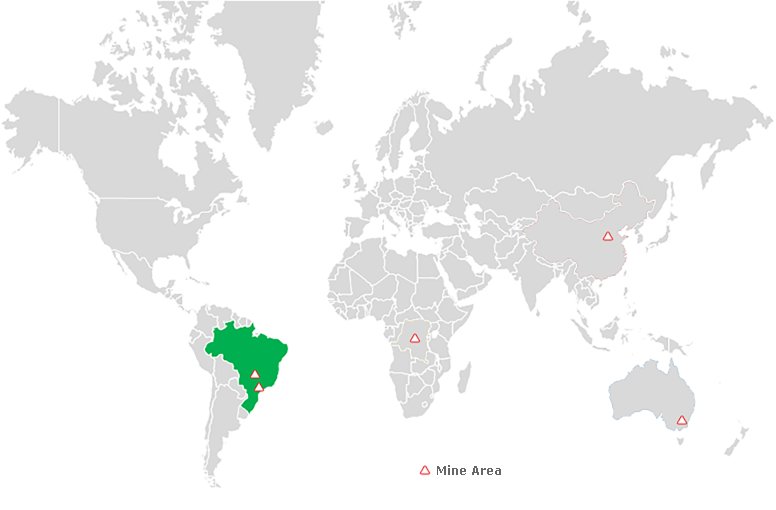 Operating niobium and phosphate mines in Brazil
CMOC is the second largest producer of niobium in the world and the second largest producer of phosphate fertilizers in Brazil. Its phosphate business adopts the open-pit mining method and produces high-analysis phosphatic fertilizers (MAP and GTSP), low-analysis phosphatic fertilizers (such as SSG and SSP powders), cattle feed supplements (DCP), intermediate products like phosphoric acid and sulfuric acid (mainly for self-use) , and byproducts (gypsum and hexafluorosilicic acid). It produced 7,489 tonnes of niobium and 1,097,623 tonnes of high-analysis and low-analysis phosphatic fertilizers. The niobium operations focuses on mining and processing of niobium with ferroniobium as its major product. CMOC Brasil mainly processes niobium through crushing, screening, concentration, leaching and smelting.
Recent highlights:
Obvious resource advantages with huge prospects for exploration and development; High potential for comprehensive recovery of polymetallic associated resources;
The operations benefit from Brazil's agricultural sector and produce the rare metal for industrial upgrading;
Inspired by Chinese leading beneficiation technology, we are committed to comprehensively improving the whole process and achieving technological breakthroughs;
Progress has been made to reduce costs and improve efficiency and niobium recovery rate through technological upgrading and comprehensive resource recovery.