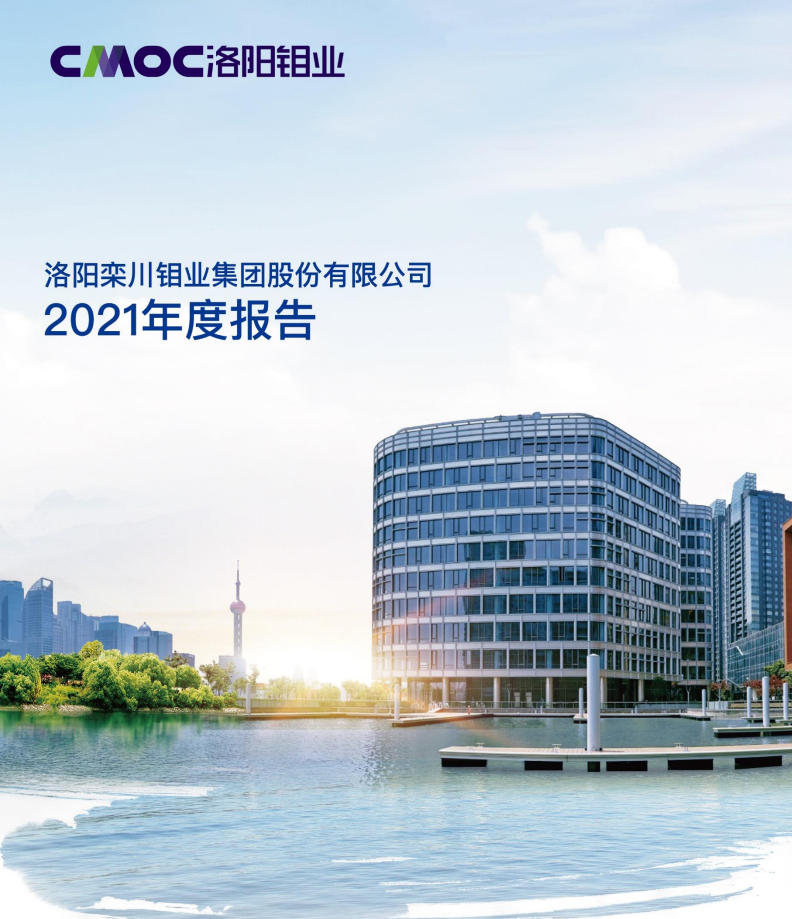 Abstract:
Substantial growth in business performance. In 2021, CMOC reported a revenue of RMB173.86 billion, up 54% year-on-year, net profit attributable to the parent company of RMB5.11 billion, up 119% year-on-year, EBITDA of RMB14.81 billion, up 65% year-on-year, and EPS of RMB0.24, up 118% year-on-year.
Stable production and operations across all business segments. 209,120 tons of copper and 18,501 tons of cobalt were produced at operations in the DRC, 16,385 tons of molybdenum and 8,658 tons of tungsten at operations in CMOC China, 8,586 tons of niobium and 1.12 million tons of phosphate at operations in Brazil, and 23,534 tons of copper and 19,948 ounces of gold at NPM, Australia.
Stronger synergy created as mining and trading businesses further consolidate. IXM registered a metal trading volume (physical trading) of 6.5 million tons in 2021, contributing USD160 million in earnings before tax.
Continued efforts and achievement in cost and efficiency programs. The Company realized RMB1.6 billion savings in production and operational costs of all mining business units over the same period of last year.
Robust capital structure. The Company keeps managing its liquidity position. As at the end of 2021, the Company has a balance of cash and cash equivalents of RMB24.3 billion, with the net interest-bearing debt ratio decreasing to 16% and over RMB140 billion in credit facilities secured from 72 Chinese and foreign banks.
Smooth progress achieved for major capex projects. TFM 10K project, the first major overseas expansion project led by the Company, was commissioned and reached full production, TFM mixed ore development project was progressing smoothly according to its scheduled milestones, preparation works of KFM copper-cobalt mine project was advancing in an orderly manner, and the nickel-cobalt project in Indonesia started production.
Effective results from organizational upgrade. A global leadership team with the CEO as the core and a site management structure that is led by the Chinese and integrates Chinese and local teams were in place. The "5233" management concept was practiced, organizational structure and corporate culture were upgraded, and the functions of the headquarters were further improved. The Company launched its Phase 1 Employee Stock Ownership Plan and is in progress to finalize the Phase 2 plan.
Stronger ESG performance. In 2021, the Company's global "key economic contributions" totaled RMB168 billion and its MSCI ESG rating was upgraded to an industry-leading level of A. CMOC joined Better Mining and Fair Cobalt Alliance (FCA) and partnered with Glencore and Eurasian Resources Group to pilot Re|Source, a blockchain solution to cobalt tracing and responsible procurement.
Remarks by Sun Ruiwen, CEO of CMOC
In 2021, despite the continued spread of the pandemic, CMOC managed to maintain stable operations across all core business units and achieved significant growth in operating results by building a comprehensive pandemic prevention and control framework and material supplying system based on our global logistics network and strong digital and intelligent production capabilities. We achieved a total revenue of RMB173.86 billion and net profit attributable to the parent company of RMB 5.11 billion, both of which were the best in our history. We also achieved record production volumes for several products, with TFM copper production reaching a four-year high, cobalt production a three-year high, and a record phosphate fertilizer production in Brazil since start of the plant. IXM also achieved best-ever physical sales volume and earnings. More importantly, we laid a solid foundation for the future as we completed the organizational and corporate culture upgrade, implemented the "5233" management concept, and the expedited roll-out of a global digitalized IT platform.
CMOC is committed to the vision of growing into a respected, modern, and world-class resources company, for which a "three-step" development path has been formulated. The first step is to "lay a foundation of low cost and high efficiency". The second step is to "ramp up with multiplying production capacity". The third step is to achieve "stellar growth" towards a world-class company. Today, the Company is at the crunch time to transition from Step 1 to Step 2. As 2022 is featured a year of construction, CMOC will stick to its "two-wheel drive" strategy: based on the existing high-quality resources, while we accelerate the construction of two world-class mines in the DRC the same time as we meet all production targets, we will also seek global M&A opportunities in new energy resources to build a promising pipeline for stronger growth going forward.