On 23 December 2021 local time, His Excellency the President of the Democratic Republic of Congo ("DRC"), Félix Antoine Tshisekedi Tshilombo, met with Mr. Sun Ruiwen, CEO of CMOC, at the Palais de la Nation.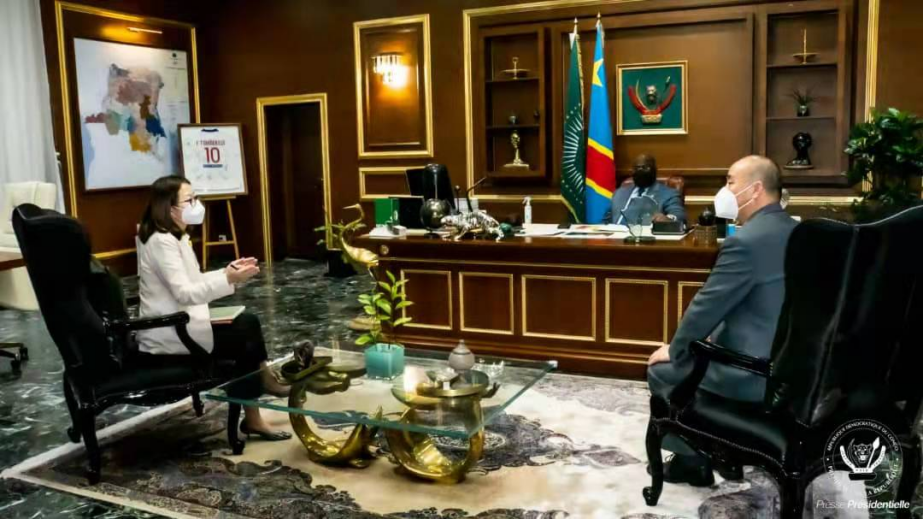 Mr. Sun reported to the President on CMOC's activities in the DRC, including its contributions in recent years in tax payments, job creation, and community development, as well as its future investment plan in the DRC.
President Tshisekedi highly recognized and appreciated the long-standing contributions by CMOC to the public treasury and community development. The President welcomed and encouraged CMOC to further increase its investment in the country. He confirmed that the state is committed to creating a favorable and stable business environment for companies to achieve win-win cooperation.
President Tshisekedi indicated that the expansion at TFM and development of KFM are the key projects of national interest in the DRC. The State is looking forward to acceleration of the development of these two projects by CMOC, so as to create more local jobs and contribute more to the economic growth of the country.
President Tshisekedi also exchanged views with CEO Sun Ruiwen on the development of the cobalt value chain. The President expresses his expectations on CMOC and its partners to strengthen cooperation with the DRC in developing and popularizing the application of cobalt as well as in the new energy sector, in this way integrating the corporate growth strategy with the national strategy and contributing to global energy transition.