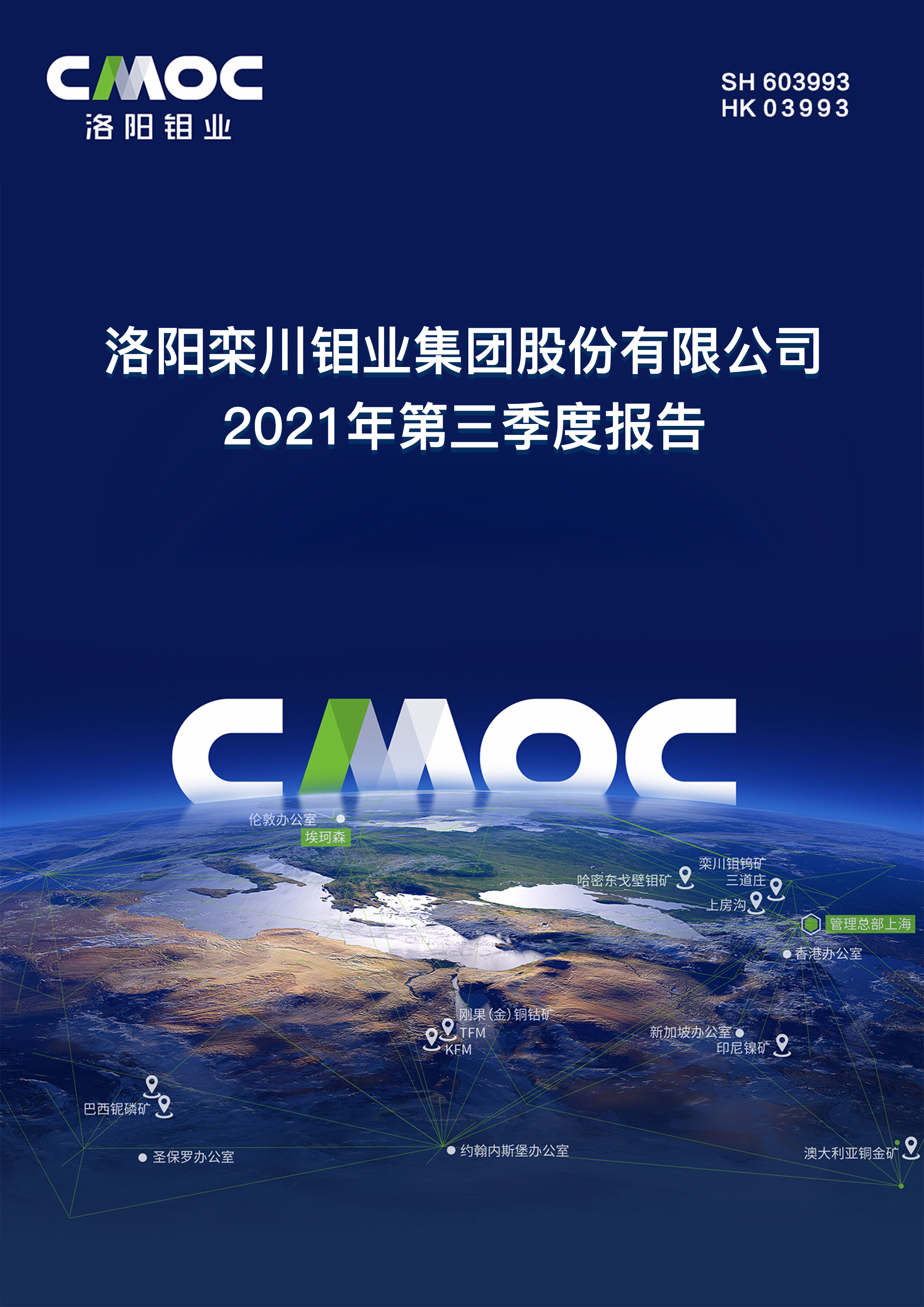 Key Financials:
In the first three quarters of 2021, the Company recorded RMB126.56bn revenue, up 58% year-on-year; RMB10.37bn EBITDA, up 77% year-on-year; RMB3.56bn net earnings attributable to the parent company, up 121% year-on-year; RMB1.91bn net earnings after extraordinary gains and losses, up 154% year-on-year; and an EPS of RMB0.165, up 120% year-on-year. Net earnings attributable to the parent company in Q3 alone is RMB1.15bn, up 91% year-on-year.
The Company maintained stable production and operations across its business units and production of all products are in line with expectations. Specifically, in the first three quarters, 11,868 tonnes of molybdenum and 6,447 tonnes of tungsten were produced at China operations, 152,300 tonnes of copper and 11,100 tonnes of cobalt were produced at TFM in the DRC, 6,270 tonnes of niobium and 838,200 tonnes of phosphate at Brazil operations, and 17,584 tonnes of copper and 15,212 ounces of gold at NPM, Australia (based on 80% equity). IXM reported a metal trading volume of 4.58 million tonnes.
Solvency of the Company is further improved. It reported RMB27.6bn cash and cash equivalents and its net interest-bearing debt/EBITDA multiple lowered to 0.56.

Business highlights in Q3:
TFM 10K project started trial production and reached full production as at end of September. As the project completes, daily throughput of TFM will increase by 10,000 tonnes and production of both copper and cobalt will increase significantly.
TFM mixed ore project was approved by the Board of Directors in August 2021 and is now in progress. The proposed investment in the project is USD2.51bn covering construction of 3 modules to be completed and start production in 2023.
ESG performance continues to improve. In the latest MSCI report issued, the ESG rating of CMOC was upgraded from BBB to A, among top tier of the industry. Meanwhile, stronger efforts were made in responsible supply chain of mineral products with Re|Source, the blockchain solution to cobalt traceability, being piloted in a wider range and to be implemented by Tesla within this year.
ESG becomes a greater driver of value creation. The Company issued successfully RMB150mn Green MTN and the first high-growth bond by a mining issuer.
The Company rolled out its phase II share repurchase plan on July 14th to establish an effective, multidimensional, and multilayered incentive system and maintain consistency of long-term interests of the Company, employees, and shareholders. As of September 30th, a total of 86,144,064 shares were repurchased.
CMOC Digitalization Program was rolled out firm-wide in September to build an integrated platform of shared ERP, OA, procurement, sales, expenditure, and finance functions, set up a procurement and sales portal applicable to global operations, and further improve the efficiency of shared services of finance and HR.