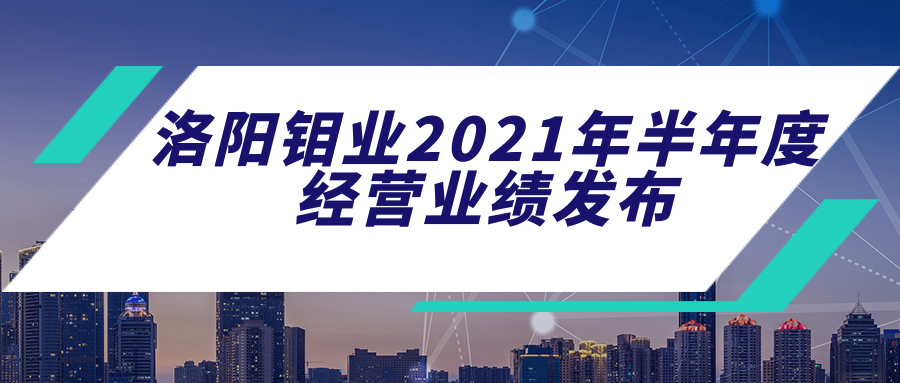 Abstract:
In H1 2021, the Company registered a significant increase in business performance from a year before, recording RMB84.82 billion revenue, up 81% year-on-year, RMB2.41 billion net earnings attributable to the parent company, up 139% year-on-year, RMB7.12 billion EBITDA, up 120% year-on-year, and RMB0.112 EPS, up 138% year-on-year.

The Company maintained stable production and operations across its business segments, as represented by 98,149 tonnes of copper and 7,010 tonnes of cobalt produced in the DRC, 7,999 tonnes of molybdenum and 4,272 tonnes of tungsten in CMOC China, 3,947 tonnes of niobium and 520,500 tonnes of phosphate in Brazil, and 11,656 tonnes of copper and 9,643 ounces of gold in NPM, Australia.

Stronger synergy is created as mining and trading businesses further consolidates. IXM continued its sound business results in H1 2021, realizing a trading volume of 3.15 million tonnes and contributing RMB369 million in net earnings attributable to the parent company.

The Company keeps up its efforts in cost and efficiency across all business segments and achieved RMB360 million savings in production and operational costs of all mining business units over the same period of last year.

The Company maintains a robust capital structure and keeps managing its liquidity position. It reported a balance of cash and cash equivalent of RMB19.4 billion and over RMB120 billion credit facilities secured from more than 60 Chinese and foreign banks.

Good news keeps coming in regarding key capex projects. TFM 10K, the first major overseas expansion project by the Company, has already been put into production. The Expansion Project at copper and gold mines in Australia starts operation. Development of mixed ores at TFM has been approved by the Board and is getting up to full speed. In addition, development of copper and cobalt resources at KFM is also in the process of planning and FS optimization.

Cooperation along the value chain of the new energy sector is further widened and becomes more in-depth. Comprehensive strategic partnership in new energy metals was built up with CATL as the purchase of 23.75% equity in KFM copper and cobalt mines for a consideration of USD137.5 million by Ningbo Brunp, a CATL subsidiary, was completed, strengthening the long-term collaboration with the raw material client who is a world-class battery manufacturer.

In terms of sustainable development, CMOC, together with IXM, joined the Better Mining Program and Fair Cobalt Alliance (FCA) and collaborated with Glencore and Eurasian Resources Group to pilot Re|Source, a blockchain solution to cobalt tracing and responsible procurement. Given the important role that it plays in the cobalt supply chain, CMOC joined the Responsible Minerals Initiative (RMI) and was elected vice chairman of the Executive Committee of the Cobalt Institute.

In H1 2021, the Company launched the series 1 Employee Stock Ownership Plan that covers core members of the senior management team. The second Share Repurchase Program was also released. The Company is taking active actions to design follow-up incentive measures that would engage more employees and establish a long-term mechanism that supports sharing of both risks and benefits.

Remarks by Sun Ruiwen, CEO of CMOC
"In the first half of this year, as the measures against the COVID-19 becomes regular across the world, the Company continued to strengthen its efforts in pandemic containment to protect our sites and promote vaccination across all business locations. As a result, the safety of global employees is protected, the stability of production and operations is maintained, and the outputs of key metal products including copper, cobalt, and molybdenum are further improved. The Company also benefited from rising commodity prices across global markets and registered significant growth in business performance with a net profit of RMB2.41 billion in H1, a new record since 2019.
As TFM 10K, NPM Expansion, and technical upgrades at China operations start production in succession, production capacity of the Company rose to a new level. In the second half of 2021, we will focus on mixed ore development at TFM and promote groundworks at KFM in an orderly manner to accelerate the transformation of the resources endowment into real production capacity and further improve the profitability of the Company."