On May 7, 2020, a provincial delegation led by the Chief of Staff of the Governor of Lualaba visited Tenke Fungurume Mining (TFM), an affiliate of CMOC in the DRC, and inspected its COVID-19 prevention and control measures. The Lualaba delegation exchanged ideas with TFM representatives on the current situation and gave instructions on epidemic prevention and control. Mr. Urbain Tshipeng, TFM Human Resources Director, and Dr. Edouard Swana, expert in epidemic prevention, presented to the delegation the current preventive management and personal protective measures implemented in TFM, including posters produced by TFM on epidemic prevention.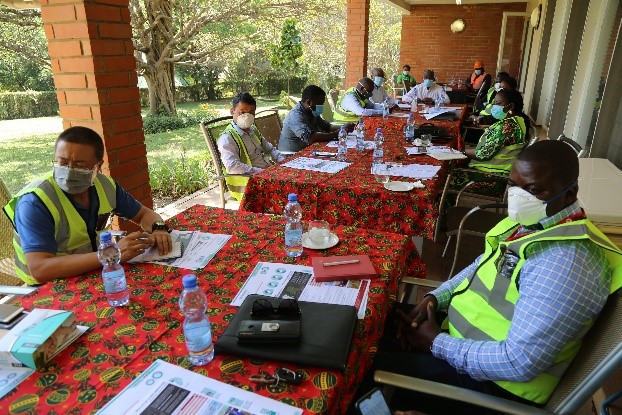 The delegation inspected Base Camp, Mikuba Camp, contractor's restaurant, camp and dormitory, exchanged with some employees, before heading back to Base Camp for a formal discussion with TFM representatives. The delegation highly praised TFM for its preventive efforts. Mr. Yannick Tshisola, Chief of Staff of the Governor of Lualaba said, "We are satisfied with the measures of containment taken by TFM. Of all the companies we visited, TFM stood out. TFM is a model."
TFM senior management represented by Mr. Simon Tuma-Waku, Deputy General Director, Mr. Urbain Tshipeng, Human Resources Director, Mr. Horson Long, Community Relations Director, Mr. Hugo Sinza, External Relations Director, and Mr. Edouard Swana, Community Development Coordinator, accompanied this visit. TFM reiterated its commitment to support the Government of Lualaba and the State of the DRC in the fight against COVID-19, to protect its employees' health and safety and to ensure the development of the company.