While the Democratic Republic of the Congo (DRC) is confronted with the crisis of COVID-19, Tenke Fungurume Mining (TFM), an affiliate of China Molybdenum Co., Ltd. (CMOC) in the DRC, actively responded to the needs of the national and provincial governments. On March 25, 2020, TFM announced a donation of US$ 400,000 and lending an ambulance to Lualaba Province for the fight against COVID-19.
The donation will be put into the account of the COVID-19 / Lualaba Solidarity Fund, which is jointly managed by business representatives, the DRC Business Federation (FEC) and Lualaba Province.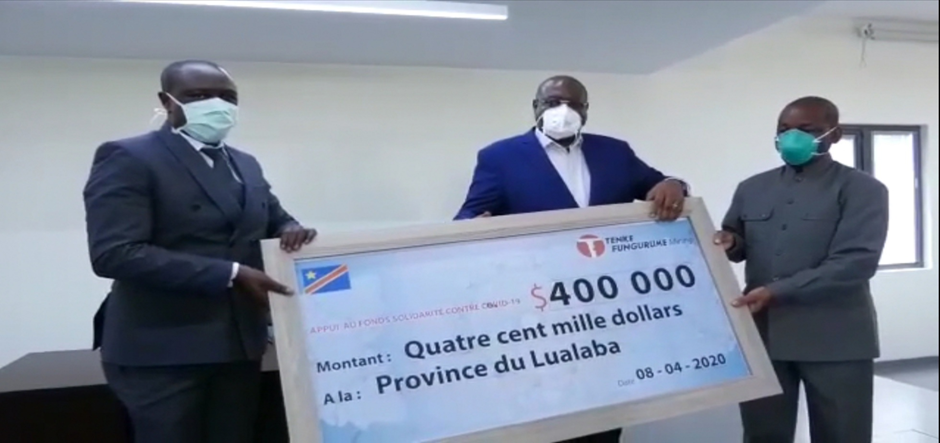 In addition to this timely help, TFM has also taken actions to fight COVID-19 and protect employees whilst maintaining stable production. Since the spread of the coronavirus in the world, TFM has formulated emergency plans, established a prevention and control steering team, and implemented a full range of preventive measures. When the epidemic broke out in the DRC, TFM has initiated the lockdown of its entire living and operational areas to prevent the spread of the coronavirus.
Following the instruction of medical experts, TFM has been communicating knowledges on how to prevent the coronavirus to the entire workforce, using multilingual videos and posters in campus and offices. TFM also shared these materials with Tenke and Fungurume authorities. These videos and posters are being used on local radio, TV and billboards in local communities. Despite the shortage of prevention materials on its own site, TFM also provided testing tools to the local communities.
During this pandemic time, fully aware of its responsibility, TFM is committed to protecting the health and safety of its employees, contractors and their families, while maintaining a stable production and continuing to contribute to local economy and wellbeing.
Previously, CMOC's Chinese operations donated RMB2 million medical supplies to Luoyang Central Hospital and Luanchuan County. CMOC Brasil donated 20,000 coronavirus identification test kits to the local government of Catalão. Northparkes in Australia purchased 1,760 P2 masks for CMOC offices in Beijing and Shanghai. IXM donated goggles and medical gloves to Henan Charity General Federation and 3,620 medical masks to medical centers in Geneva, Johannesburg, Mexico, United States and Sofia (Bulgaria). All these actions are part of CMOC's commitment to assuming its corporate social responsibility.