Aware of its social responsibility and engaged in the fight against coronavirus / Covid-19, CMOC's Brasilian operating site - CMOC Brasil decided to donate 20,000 coronavirus identification test kits to serve the population of the community surrounding its operations in the State of Goiás.
The first batch of kits, essential for detecting positive cases during this pandemic that is plaguing the world, was delivered on April 10, 2020.
In addition to Mayor Adib Elias and Health Secretary, Velomar Rios, the CMOC Government Relations manager, Henrique Anadan, attended the giving ceremony, who stressed the importance of the partnership between the Company and the Municipality. "It is a moment of unity, of striving to overcome this challenge. I am sure that all of us, residents of the region, are aware of our responsibilities, each doing their part and helping each other when possible. "
The kits are already available in the public health network of Catalão. The tests are done through blood collection, which indicate the result in 10 minutes, promoting agility in the detection of positive cases, which is essential to ensure adequate care to patients and reduce the spread of the virus.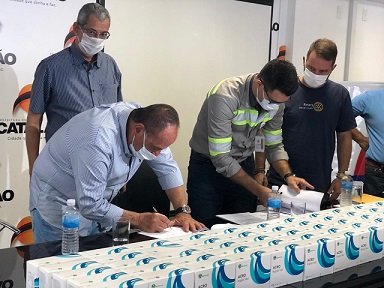 CMOC Brasil has been expanding its prevention procedures since the confirmation of the first cases of coronavirus around the world, when it banned international travel by its employees in January, until the elaboration of a series of measures to reduce exposure to the virus.
All measures are part of CMOC's commitment to the health and safety of its employees, family members, contractors and local communities. It is with responsibility that CMOC faces the challenges in containing the COVID-19 virus epidemic in Brazil.