As the COVID-19 is spreading across the world, all operating sites and offices of China Molybdenum Co., Ltd. (hereinafter referred to as "CMOC" or "the Group") are confronted with various challenges. In order to effectively respond to the epidemic situation, as early as January 26th the Group has already established a steering team for epidemic prevention and control which coordinates efforts from all levels of subsidiaries and business units, in order to protect employees whilst maintaining production. At the early stages of the outbreak when the Chinese operations were fighting against COVID-19, we have anticipated the risks of a pandemic worldwide, and sent in advance the Group's prevention guidelines and material procurement requirements to overseas operations, which have been taking preparatory actions even before the outbreak outside China.
Currently, following instructions of local authorities and overall guidance of the Group, all operating units are carrying out thorough prevention and control measures. In China, as the situation is getting better, our Chinese sites are focusing their efforts on getting back to normal operations; While in overseas operations, more stringent preventive measures have been implemented and protective supply procurement reinforced. All international operations have developed and quickly implemented preventive measures and emergency plans, including the suspension of all international and domestic trips, employees and contractors at non-production positions working from home, etc. At their mining and processing facilities, strict prevention measures have been deployed, such as temperature taken for all workers at the site entrance, collection of health questionnaires, increasing cleaning services and hand washing points; making multi-lingual videos and posters to be displayed on TV or billboards in the workplace and campus.
In addition, as a responsible international resources company, CMOC is not only committed to maintaining the health and safety of all employees and the stability of production at all operations, but also to actively fulfilling its corporate social responsibilities by donating funds and protective materials to various countries. Our overseas operations including Tenke Fungurume Mining(TFM) in the DRC, Northparkes Mine in Australia, CMOC Brasil and IXM Geneva Headquarters already made donations of funds and materials, contributing to the local economy, well-being and health of the local population.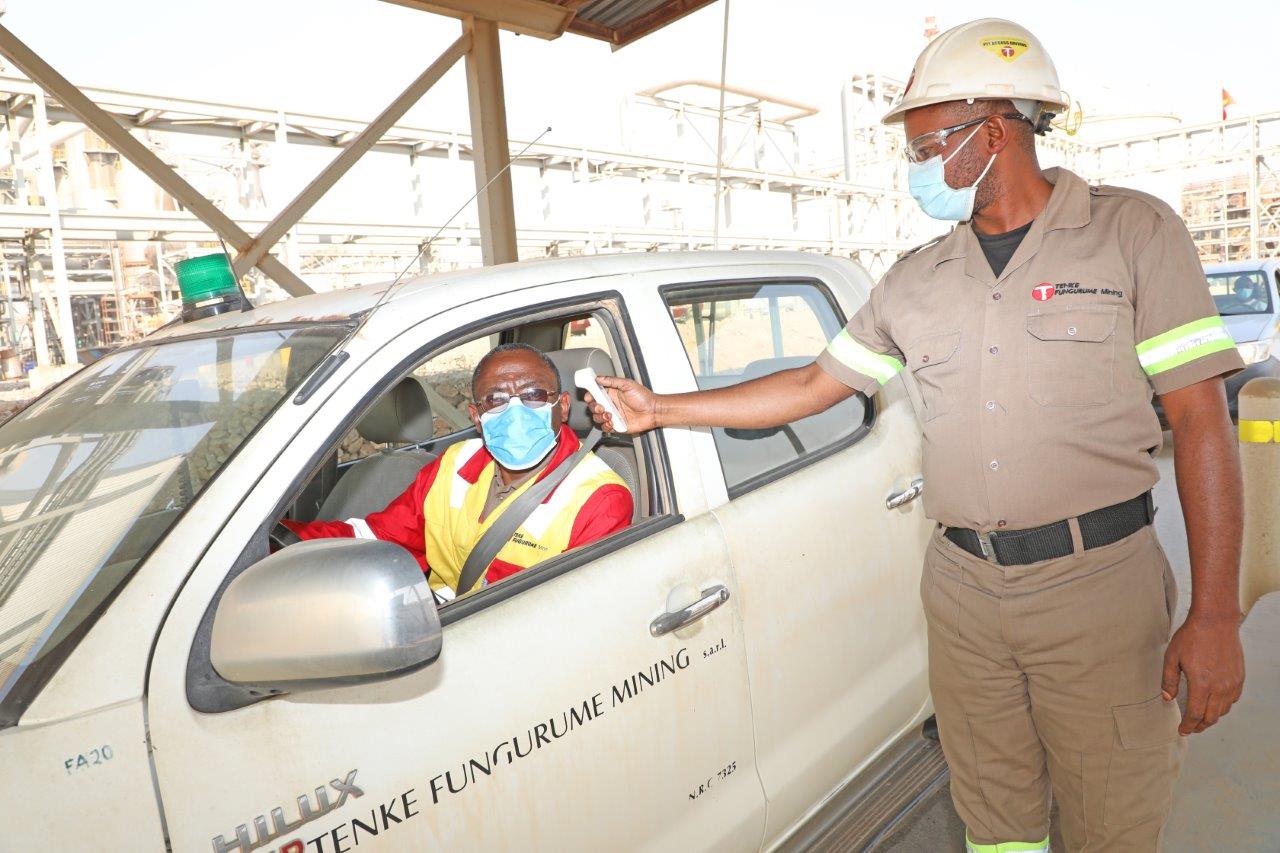 Tenke Fungurume Mining (TFM)
Since mid-March, TFM in the DRC has upgraded its epidemic prevention level. The entire living and operational areas are in lockdown to guarantee the stability of production and strictly prevent the coronavirus.
In addition, TFM actively responded to the needs of the national and provincial governments by donating US$ 400,000 and lending an ambulance to the Lualaba Province for the fight against COVID-19. Despite the shortage of prevention materials on its own site, TFM also provided testing tools to the local communities.
Following the instruction of medical experts, TFM made some multilingual videos and posters on how to prevent the coronavirus, and shared with Tenke and Fungurume authorities. These videos and posters are being used on local radio, TV and billboards in local communities.
CMOC Brasil
Since the confirmation of the first cases of COVID-19 in Brazil, CMOC Brasil has proactively adopted a series of preventive measures in order to mitigate the health risks to employees and their families. Taking into consideration the interests of our employees, the local communities and local government, CMOC Brasil has been implementing the highest level Emergency Response Plan, voluntarily reducing the number of people in operations to the minimum level, and adopting a series of most stringent measures of disinfection and screening.
In addition, a telephone channel has been made available for the exclusive use of employees, their families, and contractors. The channel provides contact with health professionals, 24 hours a day, to answer questions about the coronavirus, and allows for reporting in case of contact with individuals presenting symptoms.
Since the outbreak of COVID-19 in China, CMOC Brasil quickly responded and purchased 90,000 medical masks, 76,000 N95 masks, 1,000 sets of protective clothing and other medical materials worth more than RMB2 million, which were sent to CMOC Headquarters in China by chartered plane. In February 2020, CMOC donated these materials to Luoyang Central Hospital and to Luanchuan County.
Aware of its social responsibility, CMOC Brasil has also worked with local government to allow for the donation of 20,000 coronavirus identification test kits to serve the population of Catalão and Ouvidor, inclusive of CMOC employees and family members.
Northparkes
At the early stages of the outbreak, China was facing a shortage of masks and other protective materials. Even though the stock of masks in Australian market was limited due to the bushfires, our Australian team made every effort to find suppliers and purchased 1,760 P2 masks for the offices in Beijing and Shanghai. Northparkes also purchased goggles and medical gloves which were donated to the Henan Charity General Federation.
Northparkes follows the advice of health professionals to ensure the health and safety of its people, contractors, community and other external stakeholders. We continue to closely monitor all information and directives from the World Health Organization, health professionals and state and federal government to update our plans based on this advice and the evolving situation.
IXM
Since the outbreak of COVID-19 in January 2020, IXM management has quickly reacted, using its global business network to identify suppliers. Its teams around the world were fully mobilized to support the Group's procurement, and quickly purchased 150,000 N95 masks and shipped to China for employees' protection. Meanwhile, a batch of goggles and medical gloves was purchased and donated to the Henan Charity General Federation. Up to now, IXM also donated 3,620 medical masks to medical centers in Geneva, Johannesburg, Mexico, United States, and Sofia (Bulgaria).
All these measures are part of CMOC's commitment to the health and safety of its employees, family members, contractors and local communities during this difficult time. All the domestic and overseas teams of CMOC are joining efforts to fight COVID-19, demonstrating their social responsibility and sympathy.
As our Chairman said in the annual report: "COVID-19 outbreak brought impacts unseen in a century across the world on many aspects, from social governance to economic activities, and from family behavior patterns to everyone's mind and soul. Undoubtedly there will be profound effects. In the face of the rapid spread of the pandemic, the Company will unit and work with all stakeholders to overcome the unprecedented challenges. We believe that what does not defeat us makes us stronger."